Michigan's winter is coming. And COVID remains a serious threat. The holidays seem … tricky. All of these circumstances are taking a toll on my mental health (anyone else?), which is why I'm prone to do most anything that I can to preserve our ability to plan an escape or two this season.
Since March, I've felt safest staying in rental homes for our weekends away, so it made perfect sense to put my exhaustive research to good use and share my favorite rentals with y'all. The 10 lodging options that you'll see below meet a few requirements – they're unique, they've got great reviews, and they're all within a four- or four-and-a-half-hour drive from Detroit. Heck, I've even included an Ann Arbor option for folks who can't stomach a road trip.
Whether you're seeking a quiet retreat for two or a big, ol' home for a holiday family gathering (only once you've all quarantined for two weeks, right?), these listings will spark some inspiration. I promise.
Have you stayed at one of the properties previously? Know of a crazy-unique option that isn't listed here? Or maybe you're going to go and book one of these bad boys ASAP? Let me know in the comments.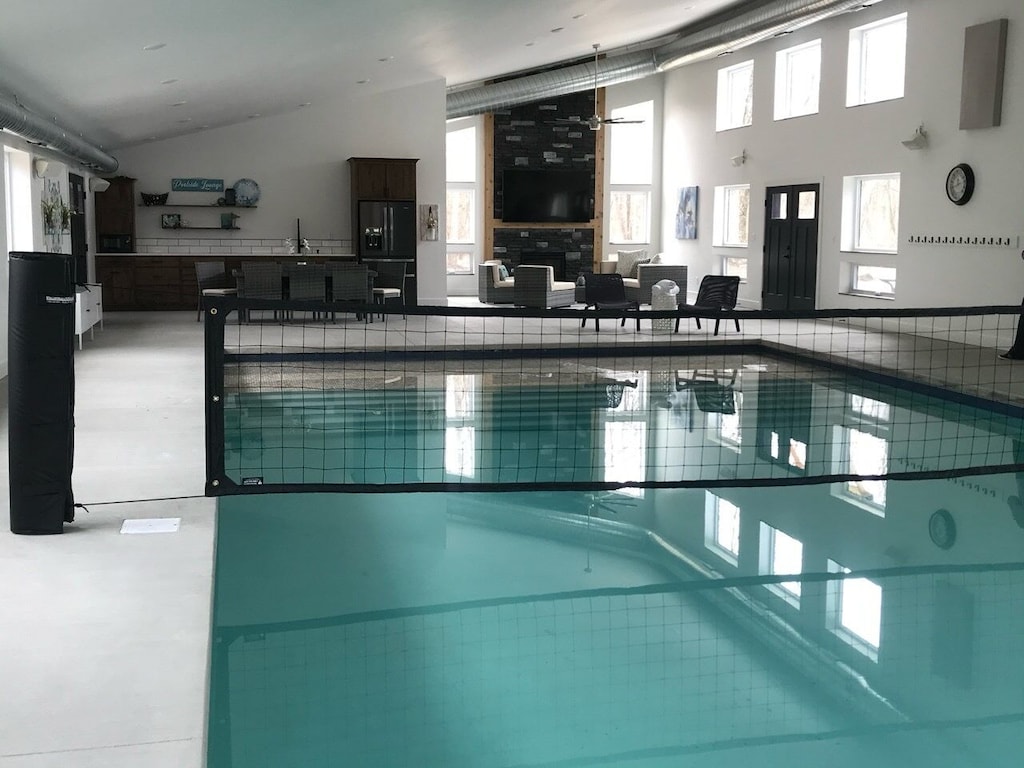 A Gigantic Group Retreat Near the Indiana Border
Niles, Michigan: Approx. 3-hour drive from Detroit
An indoor pool and basketball court. I feel like I could stop there, but let's expand. This modern farmhouse sleeps up to (a shocking!) 36 people. It has nine bedrooms, 12 bathrooms and all the fixings for a weekend of revelry with your closest crew. It has a steep price tag, but when you split it equally among guests, I'd imagine that it's worth every cent. Rates starting at $2,200/night.
More info: VRBO link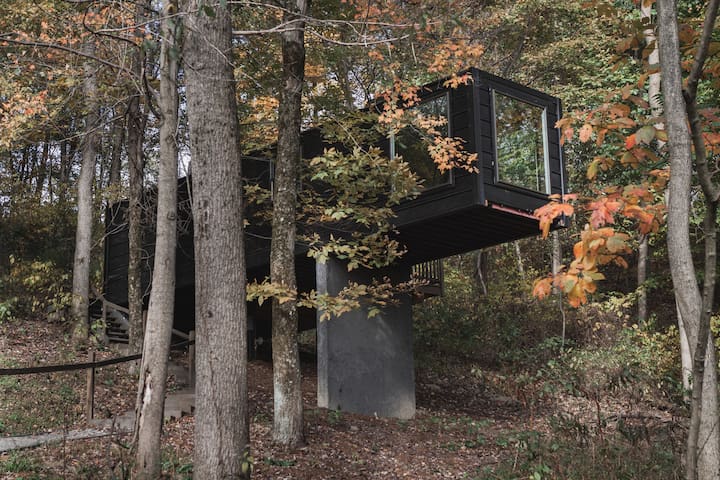 A Tree House Outside of Amish Country
Dundee, Ohio: Approx. 3.5-hour drive from Detroit
If you're looking for a clean, mod and moody perch among the trees, this rental – dubbed "The Box" – will undoubtedly meet your needs. It's located, well, in the middle of nowhere, surrounded by Amish Country. But remember, you're staying in a tree house, so the goal is remote relaxation and perhaps … wine? Rates starting at $145/night.
More info: AirBnB Listing Link
An Iconic Architectural Gem A Short Drive Away
Ann Arbor: Approx. 30-min drive from Detroit
Architectural enthusiasts will swoon over this original Frank Lloyd Wright home that sits on two wooded acres, conveniently located in Ann Arbor. In addition to an up-close view of the iconic interior design and retro spirit of the secluded home, you'll have access (in summer months) to a small tea house that also sits on the property. Rates starting at $410/night.
More info: VRBO link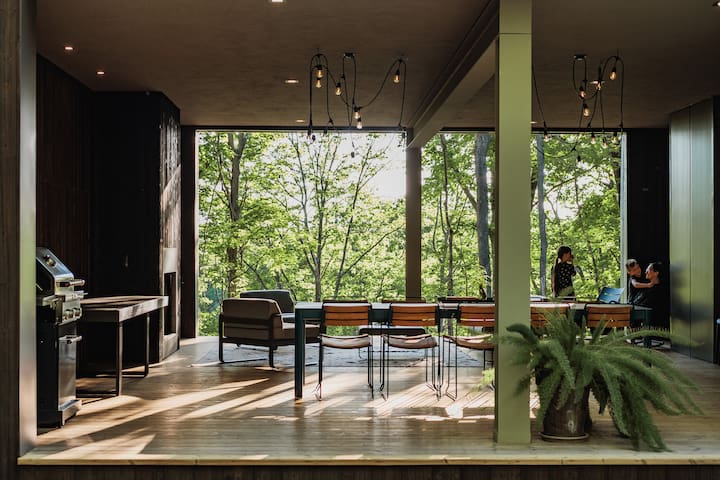 A Minimalist Escape on Lake Leelanau
Lake Leelanau: Approx. 4.25-hour drive from Detroit
"Modern but cozy" is how one reviewer described this eco-friendly but remote retreat near the lakes, vineyards and small town shops of the Leelanau Peninsula. Based on the photos and positive reviews, I'd say that sounds pretty accurate. The rental home host oversees a few properties under the umbrella of Hygge Stay, which is part of a larger company selling kit homes just like this one. Hygge, indeed. Rates starting at $358/night.
More info: StaysFound link
Lakefront Luxury with a Private Beach
Union Pier: Approx. 3-hour drive from Detroit
This year-round property comes with a hefty price tag, but it sleeps up to 20 guests, making it a beachfront bargain if you're splitting the bill among a large group (bonus – there's a guest cottage included for folks who'd like a bit more privacy). Located in Union Pier, Mich., it's just 10 minutes from downtown New Buffalo. With nearly 70 five-star reviews, you really can't go wrong. Rates starting at $1,367/night.
More info: VRBO link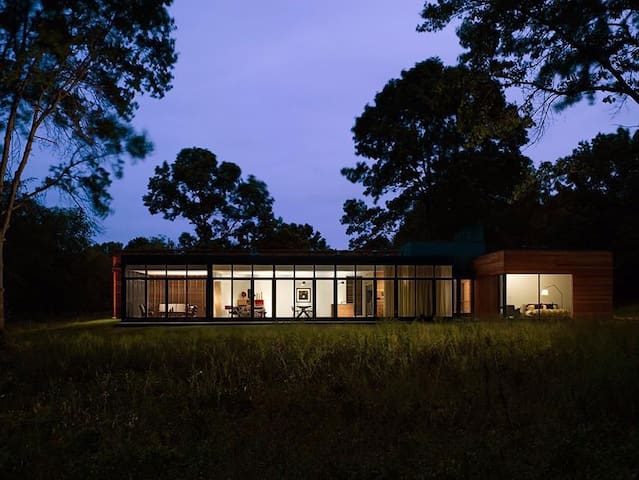 A Modern and Minimalist Country Home
Michiana Shores, Indiana: Approx. 3.25-hour drive from Detroit
If you and five of your friends are looking to spend your weekend at Indiana Dunes State Park, look no further than this glass house, set against a mellow meadow backdrop, which shares its 35 acres with the occasional horse. Floor-to-ceiling windows offer expansive views and heated concrete floors will ensure toasty toes in cooler months. Three bedrooms and a fully stocked kitchen round out the rental, which only allows kiddos over eight years old (boooo says the parent with an infant). Rates starting at $439/night.
More info: GlampingHub Link
A Chic Barn near the Beach
Three Oaks, Mich: Approx. 3-hour drive
This chic barn is cozy on its lower level – a warm entertainment room and low-ceilinged bedroom – and lofty up top, with its glam kitchen and dining area (plus, a shuffleboard!). With plenty of space inside and out, it's a sweet respite that's also within convenient distance of both New Buffalo and Three Oaks. A visit to Journeyman Distillery, anyone? Rates starting at $245/night.
More info: Airbnb Link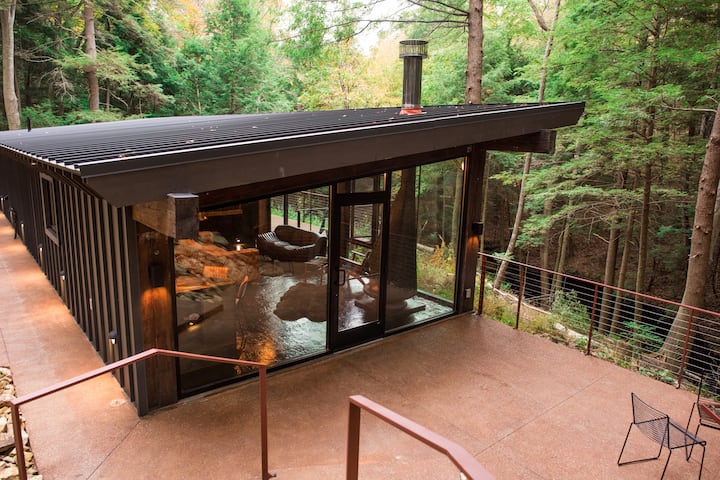 A Hocking Hills Edge-Side Escape
South Bloomingville, OH: Approx. 4.25-hour drive from Detroit
Perched atop the ledge of a 50-foot cavern, this cabin offers sweeping views of gorgeous greenery in the Hocking Hills region. It features a Malm fireplace inside (in addition to an outdoor fire pit) and a hot tub that's an ideal end to your leisurely evenings. The home sleeps up to six, but if you're planning for a winter escape, you'll want to ensure that you each come with a four-wheel-drive vehicle … Rates start at $495/night.
More info: Airbnb Link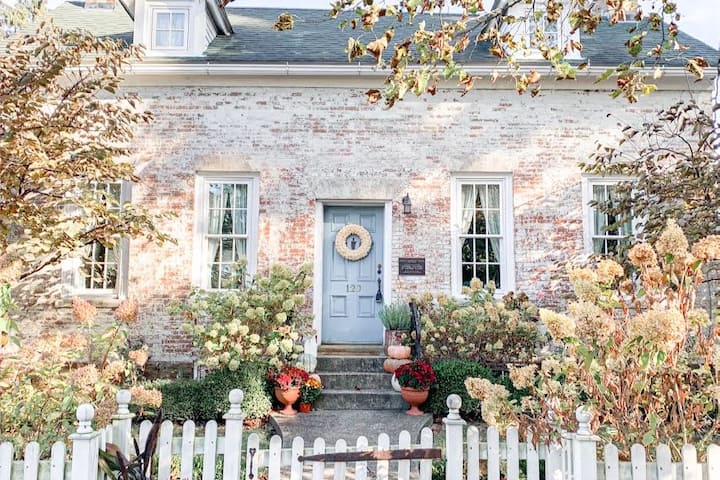 An 1824 Historic Charmer with Downtown Vibes
Granville, OH: Approx. 3.5-hour drive from Detroit
Built in the early 1800s, this charming cottage is a serious step back in time. Cozy up with a fire downstairs and grab a deck of cards; you can soak up pretty views of a whitewashed barn in the backyard, or walk into downtown Granville, where shops and restaurants dot the streets. With three bedrooms, up to eight guests can be accommodated. Rates start at $177/night.
More info: Airbnb Link
Over a Bridge and Under the Trees
Glenmont, OH: Approx 3.5-hour drive from Detroit
In rural Ohio, you'll find not only this impressive treehouse, but several, on a property known as The Mohicans Treehouses. Once you've climbed a 25′ spiral staircase, you'll only be 100 feet away from your digs, accessible via an extension bridge (side note: these units are not kid-friendly). As long as you're not scared of heights, you'll feel right at home in the rustic guest suite, which includes one bedroom with two queen beds and a full bath. I'd encourage you to take a gander and the full photo gallery and neighboring treehouses; the place looks amazing! Rates start at $369/night for the "Tin Shed" treehouse, pictured here.
More info: Mohican Treehouses